Managing Rating Scale Questions
One of the most common question types you'll find is "Rate Items Using Rating Scale". It's used by Procedures and Milestones and is often rendered like this on a final form: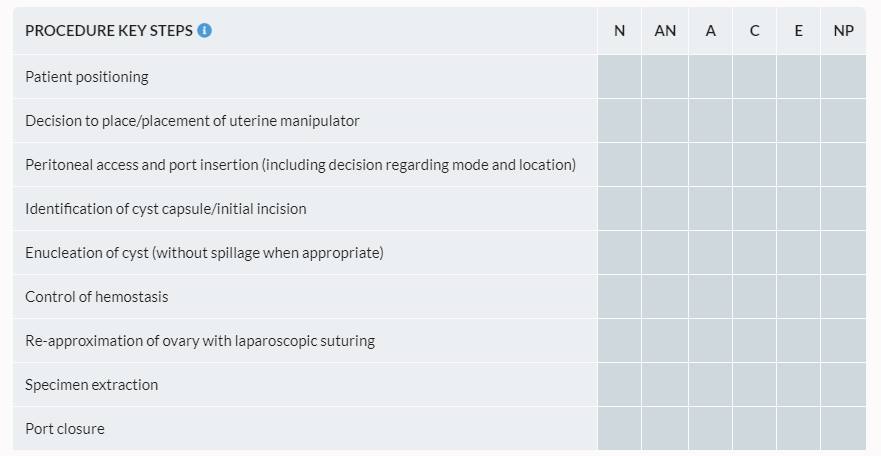 This topic will cover the various ways you can manage this type of question. If you're not familiar with modifying forms and questions, we recommend that you visit our help topic on that first.
Editing
Once you've located the question you'd like to add or edit, you'll see view like this:
Question Details
The TITLE field is the name that will show at the top of the grid. In the picture at the top of this topic, the Title is set to "Procedure Key Steps".
The RATING SCALE field allows you to choose the rating scale that will be used to rate each of the items or steps. While we don't currently allow the addition of custom rating scales, that is something we plan to do in the near future. If you have an urgent need for this, please reach out to us at support@mytipreport.org.
Here are details for the different types of rating scales that are present now:
Zwisch
Show and Tell (ST) - Teacher performs the critical step while explaining the step to the learner.
Active Help (AT) - Teacher actively guides the learner through the critical step of the procedure.
Passive Help (PH) - The learner performs critical step independently while the teacher passively provides skilled assistance and intervenes only when necessary for an important teaching point or to optimize patient safety.
Supervision Only (SO) - Teacher presence is necessary only to guarantee patient safety. At this level, the learner has enough proficiency to perform the step independently using a less skilled assistant, while the teacher does not need to be directly involved in the procedure other than to provide close supervision.
Expert (EX) - Learner performs procedure and manages complications independently.
Dreyfus
Novice (N) - Limited understanding; full guidance needed with procedure and complications.
Advanced Novice (AN) - Moderate guidance needed with both procedure and complications.
Apprentice (A) - Minimal guidance needed with procedure; moderate guidance with complications.
Competent (C) - Performs procedure independently; partial guidance with complications.
Expert (E) - Performs procedure and manages complications independently.
5-Point Numeric Scale
Level 1 - Learner demonstrates competencies expected of incoming learner.
Level 2 - Learner advancing but not yet performing at average program level.
Level 3 - Learner continues to advance and demonstrates competencies consistent with average level.
Level 4 - Learner substantially demonstrates competencies targeted for graduation.
Level 5 - Learner advances beyond performance targets set for graduation. Consistent with performance of someone who has been in practice for several years.
Ottawa
Did Activity (DID) - Supervisor did the activity, trainee observed or assisted.
Direct Supervision (DIR) - Supervisor talked trainee through activity (constant or near constant supervision, requires physical presence of the supervisor).
Reactive Supervision (RAS) - Supervisor directed trainee from time to time (supervisor does not need to be constantly observing, trainee often requires consultation).
Available If Needed (AVL) - Supervisor was available just in case (reactive supervision, infrequent).
Independent Practice (IND) - Trainee ready for independent practice.
Items To Rate
This is where you'll list out each of the items that should be rated using the rating scale. Here are some tips on how to use this control:
Editing or Adding an Item - Simply update the text in the text field. Note, the last text field is always blank and is used to add another item.
Changing Order - To change step order, grab the 4 arrows icon to the right of the item text. You can then drag this item to wherever you'd like it to appear in the list.
Deleting and Item - Click the red x to the right of the item.
Hopefully this provided you with the information needed to manage rating scale questions. If you have further questions, please don't hesitate to reach out to us at support@mytipreport.org.